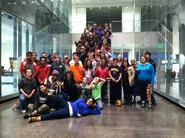 A group of Hamilton students in the Sign Language and Deaf Culture class and students from New York State School for the Deaf (NYSSD) met on Tuesday, Oct. 21, at the Wellin Museum of Art to view and discuss various pieces of art. The Hamilton students were fulfilling a class assignment for their course taught by Lecturer in the Education Studies Program Vicky Allen.
Each Hamilton student selected and researched a work of art and described the artwork and related research to a NYSSD student. The chosen objects ranged from 19th century bronze sculpture to ancient Greek vases. Signing information about the artwork – as if they were museum docents – to the NYSSD students the Hamilton students had an opportunity to practice their skills while introducing their partners to the museum and its collection.
At the conclusion of their assignment, both groups of students were given a tour of the museum's current exhibition, "Alyson Shotz: Force of Nature," by two student docents. Allen translated for the NYSSD students. This cross-discipline assignment is conducted yearly at the museum.