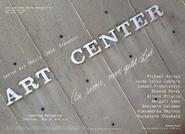 The work of nine senior art majors will be featured in an exhibition at the Ruth and Elmer Wellin Museum of Art, May 8-24. The exhibit is free and open to the public.

"Senior Art Thesis 2014: Art Center, Au Revoir mon Petit List" will exhibit the work of Michael Arroyo, Jaime Leiva Cabrera, Samuel Finkelstein, Deanna Perez, Alison Ritacco, Abigail Saks, Benjamin Salzman, Alexandrea Smyrnos and Mackenzie Theobald. The students' work includes paintings, videos, photography and sculpture.
The Wellin Museum of Art is open Tuesday through Sunday, 11 a.m. to 5 p.m. Admission is free.