Wellin Museum to Screen Omer Fast's "5,000 Feet is the Best"
---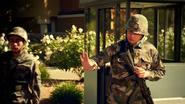 The Ruth and Elmer Wellin Museum of Art will screen Omer Fast's film "5,000 Feet is the Best" (2011), on Wednesday, Dec. 4, at 4:15 p.m., in the Overlook at the Wellin Museum. Fast's related installations Her Face was Covered (Part I and II) are featured in the exhibition A Sense of Place at the Wellin Museum. The screening is free and open to the public.
"5000 Feet is the Best" is a 30-minute cinematic video work that begins a discussion about the issue of drone surveillance and warfare. The film stems from a series of conversations that Fast conducted with a former U.S. Air Force Predator Drone operator now working in Las Vegas as a casino security guard. The operator reflects on both his daily duties and the psychological effects of live-fire missions in Pakistan and Afghanistan. The film weaves together both original footage from these interviews and the fictional re-staging of the drone missions. The project's title refers to the optimum firing position of the drone plane.
Fast was born in Jerusalem and is currently based in Berlin. He works with film, video and television footage to examine how individuals and histories interact with each other in narrative. He mixes images and sound into stories that include personal and media accounts of both current events and history. In "5,000 Feet is the Best," Fast explores the intersection of video games, slick Hollywood narratives, government concealment and the privatization of warfare; he creates elliptical and haunting accounts of the cost of war, while refusing to moralize or judge.