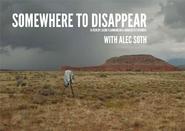 The Ruth and Elmer Wellin Museum of Art will host a screening of artist/photographer Alec Soth's Somewhere to Disappear, on Thursday, April 3, 4:15 p.m. in the Overlook in the Wellin Museum. The screening is free and open to the public.
For his project, "Broken Manual" Alec Soth traveled across America looking for people who've retreated from society. Some live in mountain cabins, some in caves and others in the desert. It is through Soth's eyes that we try to understand why those modern hermits want to escape. The photographer shows us a new fantasy, the dream to disappear.
The screening is presented in conjunction with the Wellin exhibition In Context. Soth's photographs from the "Broken Manual" project are included in the exhibition.
A post-screening discussion will be led by exhibition curator and Assistant Professor of Art Robert Knight.