Meet Your Resume Milestone with Help from the Career Center
---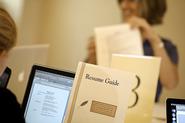 Your resume is the first way an employer gets to know you, so it's important to make a good impression! A carefully organized and well-worded resume shows your employer that you are a serious applicant who is well-qualified for the job. However, creating a resume isn't as simple as listing all of your awards and activities. The Career Center has several resources to help students create an impressive resume that will showcase their skills and experience.

To stay on track with your road to career success, you should try to complete the four milestones outlined on the Career Center website. The first milestone is to complete your resume during your first year. Students who do not yet have an approved resume should bring in a draft to be edited before winter break.

When you begin work on your first resume, go to the Career Center website and click the "Write a Resume" link in the "Milestones" box. Here you will find the Resume Guide, which shows you different ways to format a resume and helps you decide what to include and proper phrasing. Next, use our Resume Builder tool in HamNET to put together your draft.

Once your first draft is complete, call (315) 859-4346 to make an appointment with a peer advisor who can give you individual tips for organizing and improving your resume.

Need help over break? Visit our Blackboard site for an online resume workshop! You can find the link under "My Courses" on your MyHamilton page. The first milestone provides the same guidance that you would receive in a workshop with a peer counselor, including an audio presentation and access to the resume guide and Resume Builder™.