Widow of Alumnus Pledges $1 Million to College
---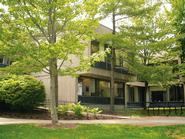 Estelle Wilhelm, whose late husband Curtis "Curt" R. Wilhelm was a member of Hamilton's class of 1940, has pledged $1 million toward the renovation of the Kirner-Johnson Building and has included the college in her estate plans. Hamilton President Joan Hinde Stewart observed, "Hamilton's ability to offer our students a superb liberal arts experience is strengthened by the generosity of people like Estelle Wilhelm."
The Kirner-Johnson Building (K-J) was dedicated in 1968 as the centerpiece of Kirkland College. It has served Kirkland and Hamilton Colleges for nearly 40 years and is now being renovated for future generations of students. It is home to the Arthur Levitt Public Affairs Center, the Nesbitt-Johnston Writing Center and the Oral Communications Center as well as the social sciences including the departments of economics, government, history and anthropology. The renovations will allow for expanded spaces for these popular centers and majors.

Estelle Wilhelm, who earned a bachelor's degree in Latin and a master's degree in library science at Syracuse University, was raised with her siblings by her mother who was a great believer in education. Wilhelm's father died when she was young. Her mother emphasized the importance of discipline, thrift and generosity during Wilhelm's Depression era childhood. After college, she worked as a librarian. Wilhelm donated $1 million to Syracuse University's School of Information Studies last year in honor of her mother.

Curtis Wilhelm '40 held various corporate positions throughout his career. The mezzanine of the renovated Kirner-Johnson Building will be named for him and a classroom in the building will be named for Estelle Katchmar Wilhelm. K-J was originally named for Walter R. Kirner and Virgil E. Johnson.

The groundbreaking ceremony will be held in the McEwen Building breezeway on Saturday, June 2, at 3 p.m. and will include remarks by President Joan Hinde Stewart, trustee Elizabeth McCormack and Associate Professor of Economics Paul Hagstrom. They will join Wilhelm and several other trustees and faculty in breaking ground with commemorative shovels.

Following the groundbreaking, President Stewart will preside over the dedication of the Kirkland College archives, a physical tribute to the Kirkland legacy at Hamilton. Kirkland alumnae Penny Watras Dana K'78 and Susan Skerritt K'77 will participate in the ceremony along with former Kirkland president Sam Babbitt.
The unveiling of the archives will be held on the ground floor of the McEwen Dining Hall. The K-J groundbreaking will be located in front of the building near the Kirkland gate.