Will Burns '88 and Tom Butta '78 in Ideasicle Podcast
---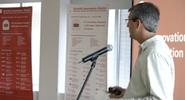 In Ideasicle Podcast Episode #10, host Will Burns '88 spoke with Tom Butta '78 about "how transformative ideas and creativity can be inside companies." Butta, founder and managing director of brand value accelerator 21Weeks, discusses the role of CMO as "creative director for the brand," the importance of picking the right team, and getting a company excited about an overarching idea. Hamilton also is mentioned in the podcast.

Burns founded Ideasicle in 2010. Ideasicle has assembled a team of hand-picked experts with experience at big-time creative advertising agencies to come up with high-impact marketing ideas for its clients, a model Burns calls "Expert Sourcing." The experts' ideas are kept separate from execution in order to keep the ideas unbiased. Clients use their existing resources to make the ideas a reality. "I don't care if the idea we come up with is free to execute, as long as it's great and it works," says Burns.

Before founding Ideasicle, Burns worked for Wieden & Kennedy, Goodby Silverstein & Partners and Arnold Worldwide. As director of business development at Arnold Worldwide, his successful pitches included Disney Stores, Pearle Vision, RadioShack, Vonage, Tyson, Progressive Insurance, and others. He is a lecturer at the College of Communication, Boston University. At Hamilton, Burns majored in psychology and economics. He played men's golf and was a member of Chi Psi.
Butta majored in economics and English literature at Hamilton. He was captain of the tennis team and was a member of Alpha Delta Phi. He has worked for Y&R and Hill Holiday, founded FGI, and served as chief marketing officer of Red Hat, PTC, and NICE Systems and CEO of SuperStock before founding 21 Weeks. He has been a guest lecturer at UNC's Kenan-Flagler Business School and New York Institute of Technology.