Williams Discusses His Research at Lepidopterists' Meeting
---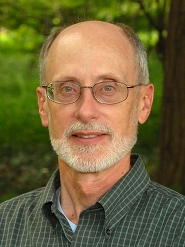 William R. Kenan Professor of Biology Ernest Williams presented a talk at the 62nd Annual Meeting of the Lepidopterists' Society. The meeting was held June 27-30 at the McGuire Center for Lepidoptera and Biodiversity on the University of Florida campus in Gainesville, Fla. The talk was presented as part of a symposium on conservation.
In "Three Butterfly Responses to Climate Change," Williams summarized several conspicuous effects of climate warming on the biology of the butterflies he has studied.
The first study was done collaboratively with researchers from Boston University and published earlier this year (2013, Biological Conservation 160:25-31). It showed that ten species of Massachusetts butterflies are emerging from seven to 14 days earlier than they were 30 years ago.
The second study, also recently published (2012, Journal of the Lepidopterists' Society 66:147-155), followed from Williams' research on Gillett's Checkerspot in the Rocky Mountains. He described how long-term observations of 14 populations of this species showed that over a 30-year span, five populations have died out. This was due to warming that has led to a drying out of the habitat and the consequent disappearance of necessary host plants.
Williams also discussed monarch butterflies, whose migratory behavior is being altered as the locations of their overwintering colonies in Mexico are warming, leading to changes in the forest cover.
He said that "taken together, these studies show how common and diverse the effects of climate change are on living organisms."
Williams also presented a talk on June 8 at Trinity College during his 45th college reunion. In addition, in May he led two field trips to the Rome Sand Plains for the Nature Conservancy.