Williams Discusses Threats to Monarch Population
---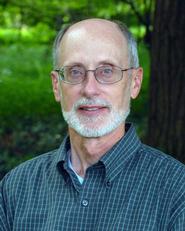 Ernest Williams, the William R. Kenan Professor of Biology, presented "The Migration of Monarch Butterflies In and Beyond New York" on July 19 at The Wild Center in Tupper Lake, N.Y. In his talk, he told of the "endangered biological phenomenon" of the monarch's migration between eastern North America and its winter habitat in central Mexico.
Williams discussed the decline of the monarch population over the past 20 years due to losses in both its overwintering and breeding habitats. He told his audience that because the butterflies rely on the insulating property of the forest canopy, the cutting of forests in Mexico reduces the likelihood of their winter survival. He also discussed the degradation of the monarch's breeding habitat, saying that as the use of herbicide resistant crops expands, the availability of milkweed, the monarch's host plant, declines.
Opened in 2006, The Wild Center is a 31-acre museum and nature center in the heart of the Adirondack Mountains. Its website says the Center is "science-based, and its experiences, exhibits and programs are designed to open new ways to look into our relationship with nature."
This year, the Center is focusing on the monarch with special programs including milkweed plantings and screenings of an award-winning movie that follows the monarch as it transforms from caterpillar to butterfly and then embarks on its migration.
Also, Williams has been elected to the board of directors of the Monarch Butterfly Fund (MBF). MBF was established in 2009 by a merger of the Michoacán Reforestation Fund and the Monarch Butterfly Sanctuary Foundation. According to its website, MBF's mission is "to foster the conservation of North American Monarch butterflies and their migration through habitat restoration, research, monitoring, education and support for sustainable community development in and near the monarch overwintering areas in Mexico."