Williams' Torchbearers of Democracy Receives Two National Awards
---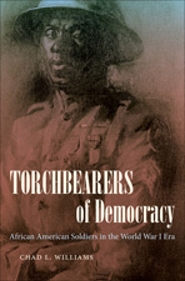 Torchbearers of of Democracy: African American Soldiers in the World War I Era by Associate Professor of History Chad L. Williams has been selected by the Organization of American Historians (OAH) for the 2011 Liberty Legacy Foundation Award which is given annually for the best book on any aspect of the struggle for civil rights in the United State, from the nation's founding to the present. Williams' book was also selected by the Society for Military History to receive its 2011 Distinguished Book Award for United States History, "reflecting original research and an outstanding contribution to military history."
On Saturday, March 19, the president and president-elect of OAH will present the Liberty Legacy Foundation Award in Houston, Texas, to Williams during the 104th annual meeting of the organization. He will accept the second award on June 10 at the annual meeting of the Society for Military History at Lisle, Illinois.
Torchbearers of Democracy: African American Soldiers in the World War I Era (University of North Carolina Press), according to OAH, "draws overdue attention to a pivotal moment in the struggle for civil rights through an epic history of black veterans and the double consciousness that framed their call to duty. A multifaceted study of war and memory, it scrutinizes the hope and disillusionment provoked by black efforts to close ranks with American nationalism during the Great War and its aftermath. While racism persisted within both military and civilian life, the black soldier became a powerful symbol of racial progress and white panic, serving as a catalyst for social and cultural change. Williams deftly layers policy history and discourse analysis over gut-wrenching stories of terror and valor from the frontlines in both wartime France and Jim Crow America. Answering calls to extend the temporal, geographical, and analytical scope of civil rights history, he offers a transnational and intersectional study of how constructions of manhood, violence, and empire shaped notions of race and citizenship at the dawn of the American century. Beyond recovering the humanity of its multiplicitous subjects, Torchbearers of Democracy sets a new standard for the integration of African American, political, and military history."
Founded in 1907, OAH is the largest learned society and professional organization dedicated to the teaching and study of the American past. Members in the U.S. and abroad include college and university professors; students; precollegiate teachers; archivists, museum curators, and other public historians employed in government and the private sector.
Established in 1933, the Society for Military History is the nation's largest professional organization devoted to stimulating and advancing the study of military history.