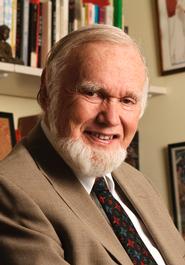 "Thomas Nast's Winter Scenes," an exhibition of prints from the collection of Jay Williams '54, the Walcott-Bartlett Professor of Religion emeritus, will be on display Dec. 4- Jan. 4 at the Museum of the Southwest in Midland, Texas. A special opening preview party will be tonight (Dec. 3) at 7 p.m. as part of the museum's "Christmas at the Mansion" celebration.
The exhibition includes original Harper's Weekly covers from Williams' extensive collection. On display are depictions of Santa Claus and winter scenes by political cartoonist Thomas Nast along with work by Winslow Homer and other Nast contemporaries.
Nast is best known for familiar versions of Santa Claus and political icons including the Democratic donkey, the Republican elephant and Uncle Sam. His cartoons appeared in Harper's Weekly from the 1860s to the 1880s.
Williams has collected original Nast prints for many years. Earlier this year, he published Thomas Nast, America's Greatest Political Cartoonist which details how Nast's illustrations and cartoons relate to and illuminate American history.