Williams Publishes Articles in Ecology Journals
---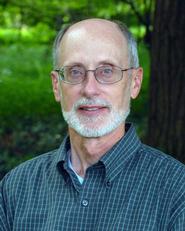 Two articles by Christian A. Johnson Excellence in Teaching Professor of Biology Ernest Williams were published recently. "Long term effects of climate on two pond predators" appeared in the April issue of American Midland Naturalist, an international journal on ecology, evolution and the environment. Previously available only online, "Decline of monarch butterflies overwintering in Mexico: Is the migratory phenomenon at risk?" was published in the March print issue of Insect Conservation and Diversity.

In his pond predators study, Williams sampled a series of pond communities in the Beartooth Mountains of northwest Wyoming from the 1970s to 2010 and examined long-term changes in the composition of the pond communities. He found that the species that was the dominant predator in two of the ponds was replaced after winters of unusually high or low snowpack. In low snowpack years, the ponds dried up enough that midges overwintering as larvae were eliminated and replaced by a predatory copepod. In contrast, during high snowpack years, the ponds were deep enough to be invaded by midge larvae that were able to eat and eliminate the copepods. Because of reciprocal predation between the two predators, the pond communities fall into one of two distinct categories.

Williams said that an exceptional feature of his study was the length of time it covered. He observed the ponds for 36 years, "giving a highly unusual long-term perspective of ways in which communities can change over time." The study also showed the effects of weather and indicated that climate change may tilt the balance toward copepod-dominated communities in these ponds. The study followed up on research Williams did in the early to mid-1970s for his Ph.D. dissertation at Princeton University.
For "Decline of Monarch Butterflies," Williams and five other researchers analyzed trends in monarch abundance based on measurements of the overwintering colonies. Their results showed a significant decline. They identified three factors are leading to the decline. The quality of the overwintering habitat is declining as the forest where the monarchs cluster in enormous aggregations is being illegally cut. The breeding habitat is also declining because of expanded use of herbicide-tolerant soybean and corn crops in the central United States, and subsequent spraying of herbicides in this area is eliminating milkweeds, the monarchs' host plant, thereby reducing monarch reproduction. Finally, climate change is leading to severe weather – including winter storms in the overwintering colonies and severe drought in Texas – that harms monarchs in areas where the migrating butterflies must find nectar sources to fuel their migration.