Williams Quoted in Environment & Energy
---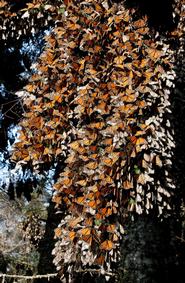 "Precipitous decline in monarch butterflies linked to habitat loss in Midwest," published by Environment & Energy (E&E) on Aug. 5, included an excerpt from an interview with Ernest Williams, the William R. Kenan Professor of Biology. The article also linked to a study he co-authored that examined the increasing risks posed by land development and extreme weather on the declining population of monarchs.
The E&E article reported on Williams' recommendation that the Monsanto Company, a leading agricultural biotechnology company, should mitigate habitat loss by purchasing and setting aside pockets of land for milkweed and nectar in places where corn and soybean crops blanket the landscape.
Williams was also quoted about corn ethanol production. "'Move government support away from corn ethanol,' Williams said. 'Growing corn for fuel is a very inefficient way of getting energy; much petroleum energy is used to grow corn, so the gain is minimal. The corn ethanol program gives pressure to take land away from other uses like CRP land and the USDA Conservation Reserve Program.'"