Wind and Solar Energy Reduce Campus Carbon Footprint
---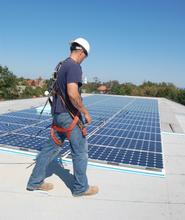 Since November 2008, Hamilton has been producing power from the wind turbine on the South Campus and its two photo-voltaic solar arrays located on the roofs of Kirner-Johnson and the Outdoor Leadership Center, according to Associate Vice President for Facilities and Planning Steve Bellona.

During this period, the wind turbine and solar arrays have produced energy equivalent to driving one-way from Portland, Maine, to Portland, Ore. (179 gallons of gas, 22 miles per gallon), with a side trip to San Francisco, Calif. Driving a hybrid vehicle making 50 miles per gallon will allow you to make it a round trip with gasoline to spare.

Explained by Bellona in more technical terminology, the wind turbine has produced 2,690 kilowatt-hours of electricity, while the solar arrays have produced 504 kilowatt-hours (Kirner-Johnson - 422, OLC - 82). This has resulted in a reduction of 1.58 metric tons of carbon dioxide to the environment. The turbine and solar arrays are expected to produce approximately 50,000 kilowatt-hours annually for Hamilton College.