Women's volleyball cruises to win at Utica
---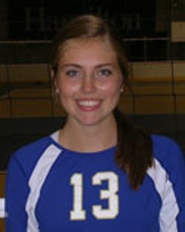 Hamilton College won its non-conference match against Utica College in straight sets at Utica's Clark Athletic Center on Sept. 28.
Hamilton (7-6 overall) prevailed 25-23 in a tough first set before the Continentals settled down and easily won the last two, 25-11 and 25-14. Hamilton extended its win streak to three matches. Brenna Corrigan '14 led the Continentals with nine kills, seven digs, three aces and two blocks.
Meredith Nuber '14 had six kills to give her a team-high 89 this year. Rachel Irizarry '12 led the defense with nine digs and Megan McCareins '14 added seven against the Pioneers (1-17). McCareins also smacked six kills. Cecelie Pikus '13 was credited with 14 assists, and Sarah Pfund '14 passed out 12.
Hamilton travels to Morrisville State College for another non-conference match on Thursday, Sept. 30.