Women's ice hockey volunteers at Utica Neighborhood Center
---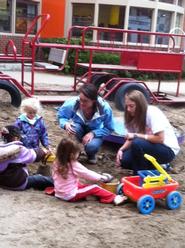 The Hamilton College women's ice hockey team volunteered at The Neighborhood Center in Utica, N.Y., during the 2011-12 academic year.

The Neighborhood Center, Inc. provides a full range of outreach, preventative, developmental and therapeutic human services for nearly 20,000 people in Utica and its surrounding communities.

Members of the women's ice hockey team have visited the center twice a week to assist with the agency's day care program. "We are happy to have the girls here to lend a helping hand and also act as role models for the kids," Director of Child Care Lisa Curtis said.

Children in the program are between the ages of three and seven, and many come from disadvantaged homes. The student-athletes visit the center in groups of four to read, play games and help the children with their homework.

"The kids are always excited to see the hockey team because they know the girls will run around and play games with them," Curtis said. "It's very heartwarming to see the smiles and laughter this brings to our children.

"It was such a rewarding experience, our players decided to make the commitment to continue volunteering even after the season was over, which speaks volumes about the student-athletes we have in our program," Head Coach Brendon Knight said.

The team plans to continue its relationship with The Neighborhood Center during the 2012-13 academic year.