Women's lacrosse breezes to win over Utica
---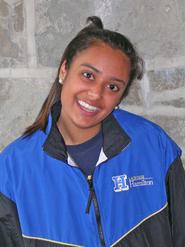 Kriti Dave '11 scored a career-high four goals to lead nationally ranked No. 1 Hamilton College to a 19-3 rout of Utica College in a non-league game at Hamilton's Steuben Field on April 20.
The Continentals (13-0 overall) extended their home win streak to 32 games. Hamilton has won all four meetings with Utica. The Continentals -- the last remaining undefeated team in NCAA Division III women's lacrosse -- have outscored their opponents 70-10 in four home games this year.

Sarah Bray '11 and Libby Schultz '12 scored three goals each. Bray added two assists, two ground balls, two draw controls and three caused turnovers. She leads the team with 31 assists and 50 points. Kate Otley '12 recorded two goals and two assists. Ashley Allen '12 tallied two goals and one assist. Liz Rave '10 moved into a tie for sixth place on the program's career list with her 119th and 120th goals.
Caroline Morgan '13 scored one goal and earned two assists. Julia Beaty '13 picked up a team-high three ground balls. Rachel Friedman '13 won a team-high four draw controls, and Mariah Monks '13 caused three turnovers. Kate Fowler '10 played the opening 7:13 in goal for Hamilton. Sam Elie '12 came in to play 37:53 and allowed Utica's three goals. Nicole Nietlisbach '13 played the final 14:54.
The Continentals opened the game with a 7-0 run in the first 7:13. Otley scored the first goal just 20 seconds in, and Bray tallied two goals during the run. Audrey Nebergall '10 also scored during the opening run. Nebergall leads the Continentals with 27 goals this season.
At the 19:46 mark, Utica (5-7) got on the scoreboard. Hamilton responded with the next three goals. Allen started it off with a free-position goal. Dave then scored her first goal of the game after a pass from Otley, and Otley made the score 10-1 off an assist from Bray with 16:37 left. The Pioneers scored back-to-back goals to make it 10-3 with 11:21 left in the first half. The Continentals scored twice for a 12-3 lead going into the break.
Hamilton scored all seven goals in the second half as the defense did not allow the Pioneers to take any shots. Dave scored three straight goals in the run, with the final two coming just 59 seconds apart. Amy Marchesi '13 scored her second goal of the season with 5:15 remaining.
The Continentals dominated the shot total 30-3. Hamilton also enjoyed a 21-17 edge in ground balls, and won 18 draw controls while the Pioneers won six. The Pioneers committed 25 turnovers and were successful on just 5 of 15 clear attempts.
The Continentals travel to play a Liberty League game against the University of Rochester on Saturday, April 24.