Women's soccer breezes to first league win
---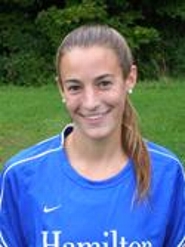 Anne Graveley '11 and Alex Rimmer '13 led Hamilton College with two goals each in a 4-1 win over Rensselaer in the Liberty League opener for both teams on Sept. 25.
Despite a slow start to the first half, the scoring picked up through the final 28 minutes as both squads got on the scoreboard. Hamilton (3-5-1 overall, 1-0 Liberty) jumped out to the early 1-0 lead in the 27th minute after Graveley scored off a rebound for her fifth goal this season. Rimmer sent a shot at the goalie, who came out to the top of the box to play it. Unable to hold onto the ball, it rebounded out to Graveley, who sent the shot past an Engineers defender and into the open net.
Rensselaer (3-5-1, 0-1) tied the score less than four minutes later when they knocked the ball into the right corner of the net. Then in the 40th minute, Rimmer sent the ball into the top corner of the net off a cross from the left side by Laura Brandimarte '11.
Hamilton continued to dominate action in the second half. Rimmer made it a two-goal advantage in the 52nd minute after she collected a cross by Meghan Griesbach '12 in the middle of the field. Carrying the ball into the box, Rimmer collided with the keeper, but the ball trickled into the net for a 3-1 lead. Graveley added an insurance goal in the 56th minute after rifling a shot from 10 yards out past the reach of the keeper.
Kate Fowler '10 started for Hamilton and recorded three stops in 71:59. Hailey Bobin '12, who played the final 18:01, made three saves.
Rensselaer held the advantage in shots, 16-11. Both teams took three corner kicks.
Hamilton returns to action on Saturday, Sept. 26, when the Continentals travel to Vassar College for a 2 p.m. start.