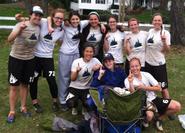 Hamilton Women's Ultimate Frisbee went undefeated in our region two weeks ago, playing six teams in two days and capturing the only invitation from the Metro East region to the USA Ultimate D-III College Championships in Westerville, Ohio, May 17- 18.
This is the first time a Hamilton Ultimate team - men's, women's or mixed - has qualified for the national tournament. "We're extremely proud,"said co-captain Libby Chamberlain.
-
The championship bracket will be updated throughout the weekend. Hamilton is ranked #14.