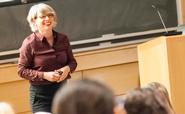 While all superheroes have their secret identities, not many get to have a secret history as well. As New Yorker writer Jill Lepore, author of The Secret History of Wonder Woman, would explain in her lecture – sponsored by the Johnson Family Fund, the Dean of Faculty, Days-Massolo Center and the Kirkland Endowment – the mysterious past of Wonder Woman explains much more than just the origin of a fictional character.

Despite confessing to "not being a huge comic book fan," Lepore, the David Woods Kemper '41 Professor of American History at Harvard University, decided to undertake the project of uncovering the shrouded past of Wonder Woman and the mysterious man who created her. Making her debut in 1941, the Wonder Woman comic was originally published under the pseudonym of Charles Moulton. The real creator of the comic was notable psychologist, Dr. William Moulton Marston. Marston, at the time famous for inventing the lie detector as a junior at Harvard, was a renowned and famous consulting psychologist and popular contributor to major magazines. However, as Lepore would explain, the inspiration for Marston's Wonder Woman was derived from a less publicly known side of his life.

As an undergraduate at Harvard University during the time when women were segregated to Radcliffe College, Marston, in Lepore's words, "became heavily invested in the feminist and women's suffrage movements, " and "thought it was an abuse that women were excluded from Harvard." As a freshman, he was there when Emmeline Pankhurst, the face of the British suffragettes, came to speak at Harvard but was prohibited from giving her lecture in campus facilities.

"When you look closely," claimed Lepore, "you can see some of Pankhurst in Wonder Woman." Backing up this claim, Lepore showed numerous images of Wonder Woman comics that mirror iconic photos of Pankhurst. Specifically, Marston had Wonder Woman chained up at least once in almost every episode because he asserted that she was an allegory for women's suffrage and those like Pankhurst who fought for it, often by marching in chains to represent their shackled status in society. However, Pankhurst was not the sole inspiration, according to Lepore. Wonder Woman is also based on Marston's own wife, Elizabeth Holloway Marston. Like Wonder Woman, Elizabeth Marston was also a strongly independent woman who defied the expectations of the time. She spent most of her life living on her own away from her husband so that she could pursue her career in New York City.

It was while his wife was away and he was working as a professor at Tufts University that Marston fell in love with his student Olive Byrne. Byrne, whose aunt was "Planned Parenthood" founder Margaret Sanger, quickly fostered a serious relationship with both Mr. and Mrs. Marston, and even took up residence with the couple helping to raise their children in what would become a polyamorous marriage. As Lepore showed, Byrne, who was herself "a fierce feminist," was also cited as an inspiration for Wonder Woman, bearing a striking physical resemblance to the Amazonian superhero.

To complicate things further, Lepore then revealed how Wonder Woman also functions as an autobiography for Marston himself. In many instances, Wonder Woman replicates many experiences Marston had at college. For example, her archenemy, Dr. Psycho, lures women into his lab to perform twisted psychological experiments on them. This character seemed "clearly based off of Marston's psychology advisor" who would perform experiments on the nearby Radcliffe girls. In many ways, Wonder Woman was a conduit for Marston to express his beliefs on the inequality with which women were treated. As Lepore summarized, though "visually looking like a pin-up girl," Wonder Woman "was also a suffragist" based off of the famous Emmeline Pankhurst, Marston's two love interests, Olive Byrne and Elizabeth Holloway Marston, and even Marston himself.

Because of his unconventional marriage and family situation, strong feminist beliefs and, at the time, radical claims that "there is no such thing as abnormal sexuality," Marston was blacklisted from academia and forced to hide his personal and family life. This is how Wonder Woman's history became a secret. "Because Marston kept his family a secret," explained Lepore, that meant, "the connection between Wonder Woman and the suffragist movement" as well as Marston's personal life "was rendered invisible." That, concluded Lepore, was why she set out to explore the secret history of Wonder Woman, to unveil the links that had been hidden in time.
New Yorker Staff Writer Jill Lepore to Discuss Feminism