Writing Center Tutors Present at Conference
---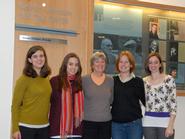 Maeve Gately '12, Allison Eck '12, Courtney Flint '11 and Olivia Wolfgang-Smith '11 participated in a joint conference by the International Writing Centers Association and the National Conference on Peer Tutoring in Writing, Nov. 4-6 in Baltimore, Md. The students, all peer writing tutors at the Nesbitt-Johnston Writing Center (now in its 23rd year), were accompanied by Director of the Writing Center and Lecturer in English Sharon Williams.
Their presentation, titled "Leaving the Shallows: Helping Writers Move Toward Deeper Analysis," was a playful derivative of the conference's theme, "Safe Harbors or Open Seas? Navigating Currents in Writing Center Work," which referred to the idea that in order to be successful in increasingly demanding environments, writing centers must harbor a balance between traditional strategies and new frontiers.

"Leaving the Shallows" was an attempt to provide conference attendees with techniques for drawing more complex analysis from writers during tutoring sessions. Williams began the talk by introducing the students and discussing Hamilton's open curriculum and writing-intensive requirement.
In particular, she emphasized that 70 percent of student usage of the Writing Center is voluntary, which means that most students who schedule conferences are highly motivated and invested in their work. The result is an hour-long collaborative process that fosters discovery in both the writer and the tutor.
However, often tutors struggle to get writers to move from description to analysis in their papers. In some cases, their assertions may be intuitive or obvious, or they may fail to incorporate the kind of in-depth analysis that most professors are looking for. The three-story thesis is a concept that helps writers visualize what a strong thesis would look like; a three-story thesis allows the reader of the paper to assess the landscape of the writer's position from the layered and multi-faceted third-floor window. The students discussed ways to combat students' tendency to gravitate toward one- or two-story theses, and provided suggestions as to how to interact effectively and animatedly with a tutee.

The keynote speakers at the conference were Allen Brizee, assistant professor in the Department of Writing at Loyola University, and Andrea Lunsford, the Louise Hewlett Nixon Professor of English and faculty director of the Program in Writing and Rhetoric at Stanford University.
Lunsford discussed "contemporary currents" – both positive and negative – in writing center work. One positive current is the recent proliferation of writing centers in colleges, universities, high schools, and even middle schools. Not only is the scope of writing center work wide in terms of grade level, but there is great variety in the kind of work they conduct – students and directors from community colleges to technical colleges to schools like the Fashion Institute of Technology were all present.
While the four Hamilton students imparted their knowledge to conference attendees, they also learned from other sessions' presentations and acquired a sense of what it is like to attend a professional conference.