Wulderk '13 Responds to N.J. Public's Voice in Sen. Lautenberg's Office
---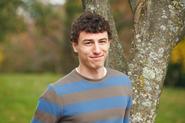 From healthcare to education to immigration, every citizen has concerns related to the government. In a large constituency, such as that of a Senate member, a single politician could not possibly respond to all these voices alone. For this reason, local Senate offices play a critical role in making citizens' opinions heard.
Dylan Wulderk '13 is spending the summer in just this position, interning for Senator Frank Lautenberg's office in Camden, N. J. As part of this internship, funded by a Levitt Public Service Grant, Wulderk participates actively in the relationship between policymakers and the public.
Since 1982, Senator Lautenberg has represented New Jersey in the U.S. Senate. The Senator's DC office deals mostly with policy, but his Camden office addresses the public of the southern half of New Jersey, interacting with constituents over the phone and through community outreach. Through this office, citizens communicate their concerns and find an outlet to their government.
Wulderk, a government and American studies double-major, does casework for citizens on a wide variety of issues, allowing him to become better acquainted with the broad spectrum of citizens' concerns and possible solutions. In addition, he attends various community events, through which he has already met the mayor of Camden, attended the swearing-in of Camden police officers, and represented the Senator at an event for small business owners.
Wulderk looks forward to interacting specifically with constituents, as opposed to working on the policy side of the Senate. He states that while most government internships grant interns policy experience, far fewer allow students the opportunity to work so closely with citizens. On the other hand, the position still requires a strong grasp on policy because, as Wulderk puts it, "it's impossible to help constituents without cutting through the red tape."
In spring 2012, Wulderk will be participating in the Hamilton program in Washington DC, and he hopes to gain more policy experience then. In the meantime, he is excited for the experiences he will gain working with different people on a day-to-day basis, and he believes this skill is transferable to any profession. On a personal level, Wulderk looks forward to helping citizens of South Jersey, where he has lived most of his life.
In his free time, Wulderk is involved with Trivia Night at Hamilton and enjoys soccer, football and volleyball. He serves on the Hamilton College Harassment and Sexual Misconduct Board, is a student journalist for the Admissions office and works at the Levitt Center.
Wulderk is a true believer in the power of government to affect positive change. He states, "I think that our representatives have the power to make a difference for everyday Americans." His internship puts him in a position to help make this difference.
Wulderk is a graduate of Hammonton High School (N. J.)