Xu Presents Invited Talk at Taiwan Conference
---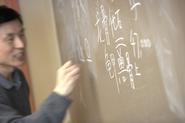 De Bao Xu, professor of Chinese, was invited to give a talk (co-authored with Hong Gang Jin) titled "Evaluation and Measurement of Participation and Interactivity in Participatory Web Tools" at ICICE 2009, the 6th International Conference on Internet Chinese Education, Taipei, Taiwan, June 19-21. President of Republic of China Yingjiu Ma delivered the welcome speech at the opening ceremony of the conference, which welcomed more than 500 professionals.
TCLT (sponsored by Hamilton College), ICICE (sponsored by the government of Taiwan), and AMCLE (sponsored by the Chinese government) are the three largest international conferences on teaching Chinese as a second language (technology-based). The Hamilton- sponsored TCLT6 will be held at Ohio State University, June 12-14, 2010. Visit its
Web site
for more information.