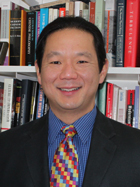 Yao Delivers Lecture at UMass, Publishes Article
Associate Professor of English Steven Yao delivered a lecture titled "Global Literary Studies and the Rising Tide of the Transpacific," as part of the Faculty Research Colloquium Series at UMass, Amherst, on March 1. While there, he also taught a graduate seminar on Global Modernisms.
In addition, Yao recently published an article titled "The Rising Tide of the Transpacific" in the online journal Literature Compass. In these two venues, Yao discussed the genesis and distinctive contributions of transpacific literary and cultural studies as a rapidly growing field of humanisitc inquiry.