Yepes '15 Conducts Needs Assessment of Paraguay Migrants
---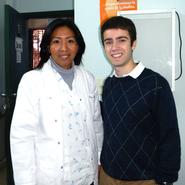 Although Nicholas Yepes '15 had traveled to Paraguay just three years ago, he was nonetheless surprised by the precarious state of the indigenous migrant population upon his arrival in the capitol city of Asunción this year. When he had previously visited Asunción as an exchange student, his host family had done their best to shelter him from the negative realities Paraguay faces. But this year, Yepes' research has taken him into some of the most economically depressed areas of Paraguay.
He was awarded a Levitt Research Fellowship to study how best to meet the basic needs of indigenous migrants. Yepes is working with Assistant Professor of Economics Emily Conover and Associate Dean of Students for Off-Campus Study Carol Drogus.
According to Yepes, the Paraguayan government does not have the funding or infrastructure necessary to conduct frequent demographic studies on migrant populations, so much of his research has involved conducting interviews of indigenous migrants, tribal leaders and government employees.
Through more than 50 interviews, Yepes has learned about the struggles encountered by indigenous immigrants searching for work. Education is the primary hurdle – even tribal leaders, who are often the most qualified indigenous migrants, have trouble finding minimum wage jobs, which pay less than $2 an hour. Knowing Spanish is an essential qualification for employees, but while indigenous migrants often speak between two to five indigenous languages, very few are fluent in Spanish.
Breaking the language barrier is not an easy task. Public schools in Paraguay are never free and are rarely tailored toward meeting the needs of indigenous migrant children. According to Yepes, parents sending children to schools in Paraguay must pay for transportation, lunches, uniforms, photocopies of textbook readings and writing supplies. This is often an impossible cost to bear for families which, under the best of cases, have only one minimum wage earner per household.
Yepes has found that it's difficult for the Paraguayan government to alleviate these problems. El Instituto Paraguayo del Indigena (INDI) is the government entity charged with helping indigenous migrants to assimilate. After contacting INDI more than 20 times in an effort to schedule an interview with the organization's president, Oscar Ayala, Yepes finally decided to visit INDI in person and knock on the president's door. Thanks to his bold move, Yepes was able to introduce himself to Ayala and schedule an interview for the following week. However, only minutes after Yepes sat down with Ayala for their interview, protesters outside INDI broke into the building and the president was called away. Ayala resigned from his position just days after the incident.
While Yepes believes the indigenous migrants' situation is a complex one, he emphasized that meeting the basic human and educational needs of these people is the first step in addressing the larger problem. He believes that Paraguay needs international guidance to help manage its rapidly growing soybean economy and international aid to directly address the basic needs of Paraguay's indigenous people. According to Yepes, Paraguay has the fastest growing economy in South America, and with the proper economic guidance, the country's rising GDP can be used as a tool to strengthen the government and to help indigenous migrants.
Yepes is a graduate of the Pennington School (N.J.)