Young People's Project Leaders Meet With National Organization
---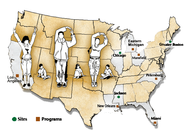 Leaders of The Young People's Project at Hamilton College met with Omo Moses, co-founder of the national non-profit organization, in Cambridge, Mass., on Dec. 22. They gathered to discuss the success of the site at Hamilton College and develop a model that would allow the success to be repeated at other colleges and universities nationwide.

Hector Acevedo '08 began the Hamilton site as a pilot program in the fall of '07 working with the Study Buddies Program. The current leadership team -- site director Leide Cabral '11, and coordinators Denise Ghartey '12 and Hannah Roth '11 -- will be working with Omo Moses, son of Robert Moses '56, on the development of a blueprint for this national network of college and university sites.

The mission of The Young People's Project (YPP) is to use math literacy as a tool to develop young leaders and organizers who radically change the quality of education and life in their communities, so that all children have the opportunity to reach their full human potential. YPP has been able to bridge the gap between math literacy and social justice; the organization has started many initiatives across the country that will one day improve the quality of life for low-income communities. Students at Hamilton College are trained to develop and facilitate workshops to students in the Utica Middle Schools.

In early January Hamilton's YPP leadership team presented to the national YPP business planning board. The group included Robert Moses '56, William Traynor of Lawrence Community Works, and members of Root Cause, a nonprofit organization that advances enduring solutions to social and economic problems by supporting social innovators and educating social impact investors such as YPP. The meeting was sponsored by The Atlantic Philanthropies, an organization dedicated to bringing about lasting changes in the lives of people who are disadvantaged. The Atlantic Philanthropies recently awarded YPP with $1.2 million to undergo a business planning restructure for the next two years.

The fall 2009 semester of The Young People's Project was made possible with funding from The Kirkland Endowment, The Diversity and Social Justice Initiative, and The Bonner Leaders Program in the Levitt Center.

For more information on The Young People's Project, please visit www.typp.org.