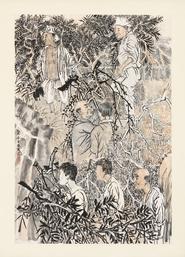 "The many pleasures of [Yun-Fei] Ji's work, beauties with a social conscience, come from his masterful mix of form and content." So begins a recent ARTnews review of the Ruth and Elmer Wellin Museum of Art's exhibition, Yun-Fei Ji: The Intimate Universe, which closes on July 2. Reunions '16 attendees have the opportunity to tour the show with Tracy L. Adler, museum director and exhibition curator, on Thursday, June 9, at 4 p.m. The museum is open from 11 a.m. to 5 p.m. Tuesday through Sunday.
"Yun-Fei Ji, who was born in Beijing in 1963, is known for scroll paintings that call to mind those of the Tang, Song, and Yuan dynasties. However, Ji's subject matter, mostly landscapes, is far more socially and politically fraught than the idyllic scenes gracing Chinese court paintings of old," the ARTnews reviewer Lilly Wei continues. "Ji depicts the harsh realities of an agrarian society as it transforms into an industrial powerhouse of global consequence, showing how the changes have affected the land and the people who inhabit it."
Ji's work portrays the gritty reality of contemporary life in China, including the forced relocation of villages and climate change's effects on the natural environment and includes a selection of paintings, drawings and scrolls - one that measures 70 feet in length – created in the last decade. An intimate scroll room, entered via a moongate, has been constructed for viewing several of the larger scrolls, and the gallery environment has been designed to subtly evoke the forms and creative landscape of a traditional Chinese garden.
About the Ruth and Elmer Wellin Museum of Art
Since its opening in October 2012, the Ruth and Elmer Wellin Museum of Art has brought 15 exhibitions, 9 publications and 92 public programs to well over 40,000 visitors. Twenty-three area school districts have engaged in programming with the museum since it opened.
The Wellin has hosted ongoing focus groups with area school districts, educator events and teacher think tanks to better serve the surrounding communities. Through its exhibitions, public programs and educational outreach, the museum promotes interdisciplinary research and the cross-fertilization of concepts and ideas vital to a liberal arts education. The museum works with emerging and established artists and collaborates with Hamilton students and faculty to develop programming promoting a wide range of disciplines.