Zogby on 2010 Elections: Anti-Government vs. Anti-Wall Street
---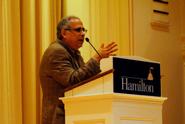 Pollster John Zogby doesn't know what will happen in the upcoming midterm election. And he's not afraid to admit it.

Zogby spoke to the Hamilton community on September 30 in the Chapel. At the lecture, which took place 32 days before the November election, Zogby focused on the upcoming election in addition to briefly discussing his book The Way We'll Be.

Focusing on the election, Zogby boiled current politics down to a battle between "The anti-government party [and] the anti-Wall Street party." Washington is operating on "hyper-partisan autopilot," Zogby said, leaving little room for any bipartisan cooperation.

According to Zogby, the 69 percent of public support that Obama had when he became president means little for this election, because "the White House is in Washington," where "a different set of skills for survival" are needed to be successful in this hyper-partisan environment.

In addition to coming in to this environment, "There were two wars going on. There was a flu epidemic. General Motors, Chrysler and, at the time, Ford were falling apart. There was a continuing bank crisis," Zogby said of the issues Obama faced. "One had to wonder…when are the locusts coming?" he joked.

So despite passing the financial reform and healthcare bills, Zogby explained, Democrats "can't run on accomplishments," because "nobody feels them today." Instead, Democrats have adopted a strategy of promoting a fear of Republican candidates, Zogby said, using the example of Tea Party candidate Christine O'Donnell. Playing off of the oft-quoted line from Franklin D. Roosevelt's inaugural speech, Zogby summarized this strategy as, "All we have to create is fear itself."

The Republicans, on the other hand, have been using what Zogby called the "bumper sticker" approach. Zogby explained that the Republican Party spent much of 2009 attempting to protect American voters against things like "Socialism" and universal healthcare's "Death Panels," which provided good catch phrases for voters to easily grasp and support.

However, this trend has shifted, according to Zogby, who sees Republicans today as attempting to reiterate their pledges to conservatism. Republicans have not benefited by the recent sure Tea Party popularity, Zogby asserted. "The Tea Party does not help the Republicans appeal beyond their base," he said. "It's too radical for the center."

Looking toward the election, Zogby said, "I don't see an opening for the Tea Party." Instead, "I'm seeing disappointed liberals and independents who are confused.

"If the election were held today, Republicans win. And they win big," Zogby predicted. But with a little over a month before the November election, even he can't predict the outcome.