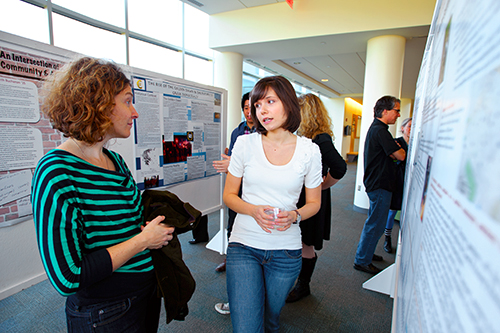 Nicole LaBarge '15, right, talks about her research "Lead in Community Gardens" during a poster session.
A student's evolution: turning toward science
Nicole LaBarge '15 started Hamilton College ready to major in creative writing, took a class and scrapped that idea. That same semester she fell for archaeology, which surprised her a little. The bigger surprise was falling for geosciences – she'd never been keen on science.
More >>

Mary Beth Day '07 on a just-for-fun visit to the Angkor temples in Cambodia, where she did research.
A graduate's progress: earning a Ph.D.
Mary Beth Day '07's Hamilton College education inspired her to pursue a Ph.D. in earth sciences at Cambridge University. She is nearly done with her doctorate and hopes to explore a career in environmental consulting.
More >>