2011 Hamilton College Honorary Degree
Presented to Patricia Pogue Couper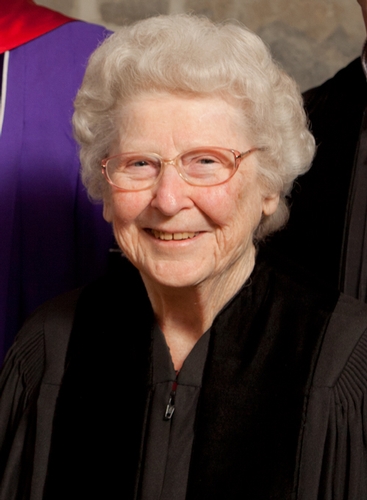 Hamilton College is blessed with loyal and generous friends dedicated to her well-being. Few, however, have touched the College's students, faculty and staff as deeply as Patsy Couper.
Having earned a degree in art history at Smith College, you came to Hamilton in 1946 with your new husband, Dick Couper, Class of 1944, who like so many of his classmates had returned to finish studies interrupted by World War II. Thus began a lifelong love affair with your adopted College. Together you and Dick created the Williams-Watrous-Couper Fund, which has supported the teaching and scholarship of hundreds of faculty members. Awardees benefit from more than just material generosity, however, for you take a sustaining personal interest in them and in their students. Other Couper funds support the library, preserving and making accessible its treasures for future generations. And in a tradition that is as selfless as it is inspiring, you present Hamilton with an annual "birthday gift to yourself" and regularly make contributions to honor alumni, faculty and staff to whom you are a cherished friend. The 2007 Bell Ringer award and the 2011 dedication of the library's Patricia Pogue Couper Research Room are intended to recognize in a small way the discernment and influence of a great woman.
You are fond of saying, "Life on the Hill is too good to me to be elsewhere," but your benevolence and love make "life on the Hill" better for all its citizens. Our spirits are buoyed by your faithful presence: auditing classes, exercising in the fitness center, serving on the planning committee for the College's Bicentennial and attending every celebration from Convocation to Class & Charter Day to Commencement (where today we are honored to offer you a front-row seat).
Patsy Couper, acting upon the authority of the Board of Trustees, I am pleased to confer on you the degree of Doctor of Humane Letters of Hamilton College, admitting you to all of its rights and privileges. In token whereof, we present you with this diploma and invest you with this hood.
Joan Hinde Stewart?
President?
May 22, 2011