2010 Hamilton College Honorary Degree
Presented to Martin S. Hirsch '60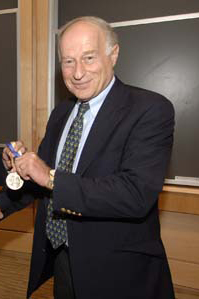 Some 30 years ago the scourge of HIV/AIDS first entered our consciousness, and the combat against it began. It has been a battle filled with challenge and no little anguish and frustration, but ultimately marked by great progress in prolonging countless lives. From the beginning, you have been at the forefront of that battle and have contributed in no small measure to research that has made HIV/AIDS a treatable infection rather than a sentence of death.
A native of Cortland, New York, you pursued premedical studies here at Hamilton while also finding time to play varsity baseball, head the Foreign Film Society, serve on the Honor Court and occasionally rejuvenate your spirit by walks in the Root Glen. After your graduation Phi Beta Kappa in 1960, you went on to medical school at the Johns Hopkins University, followed by postdoctoral studies in virology. A fellowship in infectious diseases launched your now 40-year career at Harvard University, where you are a professor of medicine and have gained world recognition for your outstanding achievements in advancing our knowledge of infectious diseases and their treatment.
As director of HIV/AIDS research at Massachusetts General Hospital beginning in 1981, you led groundbreaking efforts in demonstrating that combination therapy could help control HIV replication and save lives. But beyond your pioneering contributions on the cutting edge of virology research, you have been a superb mentor to numerous young medical students who trained under your supervision and are now internationally recognized researchers in their own right. Thus you have inspired and prepared a new generation to continue the battle with the determination and vigor for which you have been the role model.
Martin S. Hirsch, acting on the authority of the Board of Trustees, I am pleased to confer on you the degree of Doctor of Science of Hamilton College, admitting you to all of its rights and privileges. In token whereof, we present you with this diploma and invest you with this hood.
Joan Hinde Stewart?
President?
May 23, 2010