2002 Hamilton College Honorary Degree
Presented to Thomas E. Meehan '51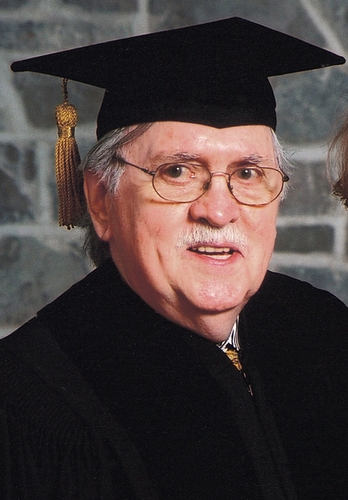 "Somewhere down the street someone dropped a milk bottle." That is the first sentence of what, as far as we can determine, was the very first work of yours published, a short story in Hamilton's student magazine, the Continental. The year was 1950, and it marked the ­beginning of a writing career that has taken you from The New Yorker to TV, to Broadway, to Hollywood, and back again to Broadway in repeat triumph.
Born in Ossining near the Hudson, you found here at Hamilton not only stimulus to your party spirit but also a new world of the arts and particularly literature, and you decided on writing as your career. A few years after your graduation in 1951, you gravitated to The New Yorker, where your humor pieces attracted attention and a job writing comedy for television, which led to an Emmy Award. Next came your effort to help Little Orphan Annie sing and dance. It wasn't easy to do, but it paid off in Annie, one of the most spectacular Broadway successes of all time, and resulting in a Tony Award to you for its book. Collaboration on screenplays with Mel Brooks followed, which eventually led to another wild idea, making a musical out of one of Brooks's early film comedies. The result, of course, was The Producers, which opened on Broadway last year to massive critical acclaim, and it too is a success of legendary proportions. Among its 12 Tony Awards, an unprecedented number, was one for best book of a musical, your second Tony.
As a student on this Hill, you fell in love with Faulkner and sought to write in his vein. But somehow, your sense of humor kept getting in the way. It turned out to be your true métier, leading you on a path, with many twists and turns, to outstanding achievement. We are delighted that Hamilton played a part in pointing the way.
Thomas E. Meehan, acting on the authority of the Board of Trustees, I am very pleased to confer on you the degree of Doctor of Literature of Hamilton College, admitting you to all of its rights and privileges. In token whereof, we present you with this diploma and invest you with this hood.
Eugene M. Tobin
President
May 26, 2002