2005 Hamilton College Honorary Degree
Presented to Francis Haas Musselman '50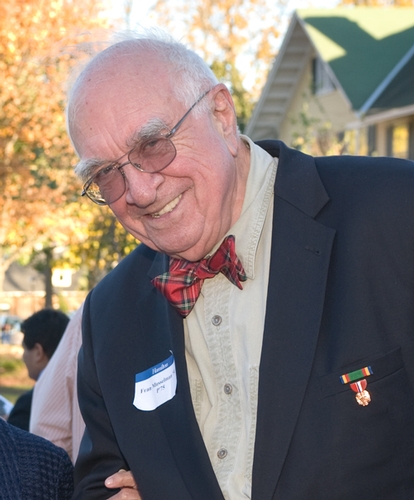 Integrity is prized in every business or profession; today, alas, headlines cry out its absence. As an attorney-at-law, you have earned the high esteem of your colleagues and clients alike as exemplifying that virtue. We at Hamilton have also come to know and appreciate not only your integrity but also the wise counsel you have provided during decades of devoted service to your alma mater.
Fresh out of high school in New York's North Country, you entered the U.S. Navy and served as a gunner's mate in the Pacific during World War II. Thereafter you followed your father to Hamilton. While there, you married, became a father and fixed your sights on a career in the law. You obtained your professional credentials at Columbia Law School, where your valiant efforts to introduce an honor code similar to Hamilton's proved, unfortunately, unavailing.
You soon joined the firm of Milbank, Tweed, Hadley & McCloy, and in time became its ­managing partner. You won wide recognition as a specialist in bankruptcy law and corporate ­reorganization, and were often called upon as a trustee or consultant in major bankruptcy cases. You also served on the boards of numerous educational and cultural institutions, and in 1971 you heeded the call to join the board of Kirkland College.
As its chairman, you played a key role in a time of transition when tough decisions had to be made. Today, as a life trustee of Hamilton and soon to celebrate the 55th Reunion of your class, you continue, with extraordinary dedication, to benefit your alma mater with your sound judgment, and you have never ceased to inspire us all with your integrity.
Francis Haas Musselman, acting on the authority of the Board of Trustees, I am pleased to confer on you the degree of Doctor of Laws of Hamilton College, admitting you to all of its rights and privileges. In token whereof, we present you with this diploma and invest you with this hood.
Joan Hinde Stewart
President
May 22, 2005