2004 HAMILTON COLLEGE HONORARY DEGREE
Presented to Richard Nelson '72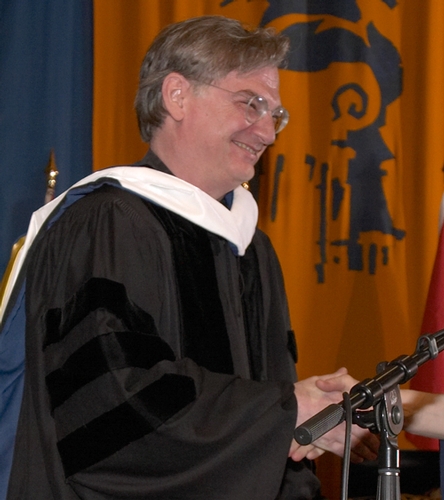 When, at the age of 17, you requested admission to Hamilton, you confided on your application form that you had written "approximately 10 short plays of which only one has yet been performed." Now, some years later, your plays, be they short or long, have not only been performed in impressive numbers, but presented to the delight of audiences in virtually every part of the world.
You went from this Hill as a graduate of the Class of 1972 to begin what has truly been a productive life in the theater. In doggedly pursuing your craft as a full-time ­playwright and increasingly as a director, you have ­persevered in a highly difficult and demanding business, ultimately achieving widespread recognition and much-deserved success. Your plays, often concerned with rootlessness, dislocation and the clash of cultures, first found a receptive audience in Britain when commissioned and staged by the Royal Shakespeare Company. Eventually, however, your works such as Some Americans Abroad gained for you a following on this side of the Atlantic, and you became a playwright with much honor in your own land as well.
Hailed in The New York Times in 1995 as "one of the most prolific and talented ­playwrights" of your generation, you went on to prove the validity of that judgment in 2000 by ­capturing Britain's prestigious Olivier Award for your intensely absorbing drama, Goodnight Children Everywhere. That same year, you received a Broadway Tony for the best book of a musical, your Chekhovian James Joyce's The Dead. Today, artfully crafted words, subtly ­humorous and above all literate, continue unabatedly to flow from your pen. They add to a body of work that will engage and affect theater audiences for generations to come.
Richard Nelson, acting on the authority of the Board of Trustees, I am very pleased to confer on you the degree of Doctor of Literature of Hamilton College, admitting you to all of its rights and privileges. In token whereof, we present you with this diploma and invest you with this hood.
Joan Hinde Stewart
President
May 23, 2004