2000 Hamilton College Honorary Degree
Presented to John T. Nichols II '62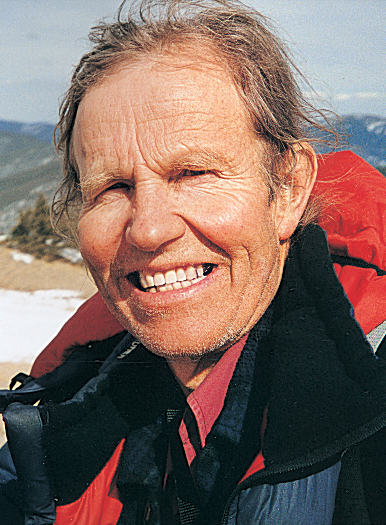 Many try, at least for a while, but few succeed in eking out a living with their pen while maintaining their integrity. Beyond talent, it takes dogged dedication and perseverance, and the willingness to sacrifice. The ever-winding literary path that you have chosen has taken you up an occasional peak but mostly through valleys. Still, undaunted, you forge ahead. The result is a body of work that is truly impressive and has proven to be enduring.
Born in California, and after a peripatetic childhood, you somehow found your way to this Hill with, legend has it, an untuned guitar, a new ­hockey stick, and a typewriter in tow. Awing your classmates with what seemed to be your boundless talent and energy, you composed songs, drew cartoons, acted with the Charlatans, ran cross-country and track, and co-captained the hockey team at dire risk to your knees and front teeth. Above all, you wrote, churning out never-to-be-published novels at the rate of one a year.
After leaving College Hill with your diploma in 1962, you continued writing while earning a bit of money in picturesque odd jobs. At age 24, you managed to find a publisher for The Sterile Cuckoo, a novel about young life and love at a college suspiciously similar to Hamilton and featuring Pookie Adams, one of the most quirky and memorable characters in modern American fiction. Caught up in the protest movement of the '60s, you settled at the end of the decade in northern New Mexico, where you developed a strong sense of place and a fierce commitment to preserving that land and its people's way of life. It resulted in your New Mexico trilogy, The Milagro Beanfield War, The Magic Journey, and The Nirvana Blues.
In those and other works, you harnessed humor in the service of compassion, combining comedy with social and moral outrage. In addition to your nine novels at last count, three of which have been made into films, you have written screenplays and seven works of nonfiction. Several of those are photographic essays, eloquent pleas on behalf of the environment and the fragile beauty of your adopted region. All reflect your fervent belief in the power of ­literature to contribute to a better world, and with rare and remarkable integrity, you have devoted your life's work to that end.
John T. Nichols II, acting on the authority of the Board of Trustees, I am very pleased to confer on you the degree of Doctor of Literature of Hamilton College, admitting you to all its rights and privileges. In token whereof, we ­present you with this diploma and invest you with this hood.

Eugene M. Tobin
President
May 21, 2000