2006 Hamilton College Honorary Degree
Presented to Joseph S. Nye, Jr. P'87 & '88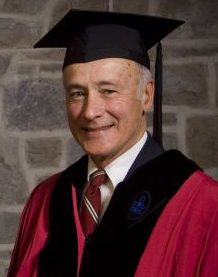 In the aftermath of the Cold War, our nation confronts new global challenges. In a world made dangerous by threats of terrorism and nuclear proliferation, new paths must be explored by the world community, and especially by its only remaining superpower, to secure and strengthen international peace. As a political scientist and past policy-maker, you have reflected long, deeply and fruitfully about such matters as power relationships and response to international conflict.
New Jersey-born, Princeton-educated and a Rhodes Scholar, you earned your Ph.D. at Harvard in 1964. Thereafter you remained in Cambridge to carve out an outstanding academic career. Your Harvard tenure was interrupted only for service in Washington, in the Departments of State and Defense, and to chair the National Intelligence Council. For those contributions, you received the State Department's highest commendation, the Distinguished Honor Award, as well as Distinguished Service Medals from the Intelligence Community and the Department of Defense.
At Harvard, where you are currently the aptly titled Distinguished Service Professor, you were also director of the Center for International Affairs and, from 1995 to 2004, dean of the John F. Kennedy School of Government. When not engaged in government service, or in academic teaching and administration, you have utilized your prolific pen in addressing the problems and complications of our place in the world. Combining moral perspective with keen awareness of political reality, your cogent advocacy, especially of the use of what you have termed soft power — the power of persuasion — has had considerable impact on the thinking of those concerned with our nation's global role.
Joseph S. Nye, Jr., acting on the authority of the Board of Trustees, I am pleased to confer on you the degree of Doctor of Laws of Hamilton College, admitting you to all of its rights and privileges. In token whereof, we present you with this diploma and invest you with this hood.
Joan Hinde Stewart
President
May 21, 2006