2007 Hamilton College Honorary Degree
Presented to F. Eugene Romano '49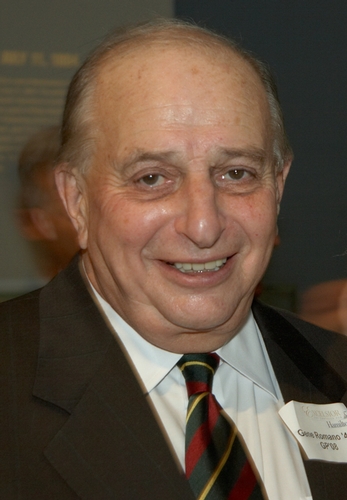 A native of this valley, born to Italian immigrant ­parents in nearby Utica, you came to Hamilton in the wake of World War II. On this Hill, the course of your future career was influenced by a fellow Utican, Professor David M. Ellis, whose teaching of New York State history led you to appreciate this area, its attributes and potential. Just a few years after receiving your diploma, you embarked upon the first of many ­business enterprises by founding in Utica a distribution company for industrial steel and aluminum. That com­pany, greatly expanded, still exists. Many other business ventures followed, encompassing industry and real estate in vast array.
But even as "entrepreneur extraordinaire," you never lost touch with your roots, and the Mohawk Valley remained the focal point of your investments, not only for your own enterprises but for the benefit of the community at large. Devoted to the region and concerned about its ­cultural life as well as its economic well-being, you have lent unstinting support to such institutions as the Utica Symphony Orchestra, the New Hartford Public Library, the venerable Stanley Theatre, and the Boys and Girls Club of the Mohawk Valley. But your particular desire has been to see local youth enjoy the opportunity to excel through higher education, and that has prompted your generous benefactions to Utica College and to Hamilton, where the Romano Entrepreneurs Fund aims at encouraging graduates with an entrepreneurial bent to remain in the region and help it prosper.
You once remarked that Hamilton "taught me to listen, analyze and do my duty." As one whose concern and commitment have touched every corner of the community in which you grew up and prospered, you have done your duty most admirably by giving back to it abundantly and in manifold ways.
F. Eugene Romano, acting on the authority of the Board of Trustees, I am pleased to confer on you the degree of Doctor of Humane Letters of Hamilton College, admitting you to all of its rights and privileges. In token whereof, we present you with this diploma and invest you with this hood.
Joan Hinde Stewart
President
May 20, 2007