2008 Hamilton College Honorary Degree
Presented to Josiah J. L. Simpson '72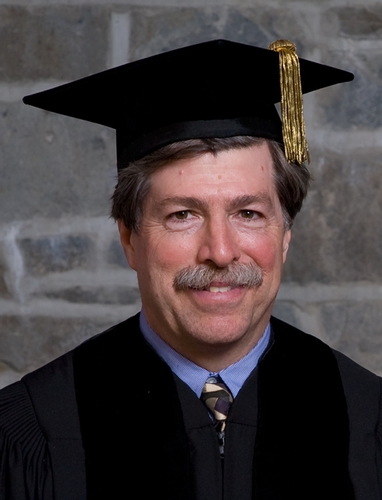 Fashioning things of beauty out of glass is a craft and an art that dates back to antiquity. Utilizing ancient techniques in highly innovative ways, you have ­created contemporary works in glass that are unique in design and breathtakingly beautiful. They combine a ­versatility and command of craftsmanship, as well as an artistic sensibility, that have gained for you international recognition as one of the leading glass artists of our time.
Your career began when, in the middle of your senior year here at Hamilton, you managed to persuade a ­skeptical Dean Tolles that learning to blow glass was an academically worthwhile January-term project. You promptly headed for the Vermont woods and, while January turned into a full year, you essentially taught yourself the craft in a tiny hand-built studio, while you lived in a teepee. Following your return to Hamilton and graduation, you went back to Vermont and began the painstaking task of making objects from molten glass. You later relocated to the rolling hills of western Massachusetts, where, in a studio housed in a big old barn, you work with apprentices in the stifling heat of furnaces to fashion your creations.
At first you only set out to make the perfect goblet, but, ever experimental, you continued to extend glassmaking's boundaries. Always fascinated by space exploration, you created your now renowned Planets series, followed by tektites and copper baskets, as well as the New Mexico series, among others. As a glass artist, you have been called a visionary and a Renaissance man, and your works in their remarkable variety reflect that. It is not surprising that they have received innumerable awards, can be seen on display in major museums and galleries, and have found a permanent place in the collections of leading institutions throughout the world.
Josiah J.L. Simpson, acting on the authority of the Board of Trustees, I am pleased to confer on you the degree of Doctor of Fine Arts of Hamilton College, admitting you to all of its rights and privileges. In token whereof, we present you with this diploma and invest you with this hood.
Joan Hinde Stewart
President
May 25, 2008