Wednesday, January 19
The man behind 99 Questions has a few answers, too
By Ryan Park '12
Associate Professor of Theatre Mark Cryer's foster father once told him, "The first thing you do is pay your rent, the second thing you do is something you love." When Cryer says, "I enjoy teaching — that's what gets me out of bed in the morning," it is evident that he has heeded those words of advice.
For Cryer, teaching acting is about satisfying the "contradiction" of a theatre course: "playtime" within the context of learning that "acting is craft, it's discipline." This balancing act shows itself in his multifaceted career as professor, playwright and film and stage actor. Playing off the sentiments of the Hamilton campus in the aftermath of a racist incident in 2000, he worked with Jared Johnson '02 to develop a solo piece titled 99 Questions You've Always Wanted to Ask an African American But Were Too Afraid to Ask as part of an Emerson grant. He performs this piece several times a year, asking and answering questions that address a greater racial dilemma: "We don't know each other, we know each other as the 'other.'" He also served as writer, performer and master of ceremonies — presenting a whimsical history of the College — at the launch of Hamilton's Bicentennial Initiatives campaign during December's 1812 Leadership Circle Weekend in New York City.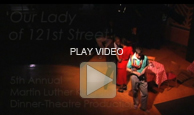 In this short video, M-Theatre director Mark Cryer and Allen Harrison, associate dean of students for diversity and accessibility, talk about the importance of the recent theatre production.
Tonight's annual Multicultural Theatre dinner performance for Martin Luther King Jr. Day — this year's drama is Our Lady of 121st St. — provides a context for Cryer to offer a level of direction beyond the classroom setting. M-Theatre "gives an artistic voice to more students of color. It gives an artistic voice to more students who might not be either ready for, or interested in doing, the main stage." And last summer it gave a group of 10 students the opportunity to perform their production of Ma Rainey's Black Bottom by August Wilson at the Edinburgh Fringe Festival for the first time in the four-year M-Theatre tradition.