Monday, April 11
Thanks to her, someone's wearing a kilt in Baghdad
By Tucker Keren '13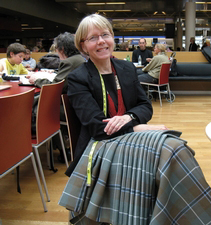 Professor of Geosciences Barb Tewksbury has spent more than 30 years teaching Hamilton students the nuts and bolts of geology. But she has also dedicated countless hours outside the classroom to teaching the world her other specialty — the art of traditional Scottish kiltmaking. Tewksbury has written a book, The Art of Kiltmaking, and is considered one of the world's top modern kiltmakers. It's a hobby Tewksbury began only 15 years ago, when she accompanied her daughter to a Scottish Highland dance camp and took a kiltmaking course. Since then she has shipped custom-made kilts everywhere from Boston to Baghdad. Impressively, Tewksbury manages to construct numerous kilts on top of not only teaching but also playing bagpipes in a local pipe and drum band. She recently stitched a handmade kilt while on geologic field study in Iceland.
Tewksbury, a skilled seamstress with a lifelong interest in handcrafts, stands out among kiltmakers because she freely shares her knowledge. For her, kiltmaking is not about earning a living, but rather eagerly sharing her love for the art. Finding kiltmakers willing to share their secrets is rare, but Tewksbury says she is "a teacher at heart, and it was important to write a book on kiltmaking that would not only preserve a traditional craft but also really teach people how to make kilts themselves."
Tewksbury additionally provides advice on the phone and online. Fellow kilt enthusiasts, such as Nick Fiddes of Scotweb, agree that "ambassadors like Barb help the art of kiltmaking survive not as a nostalgic relic, but as a thriving contemporary tradition." Tewksbury continues to dedicate her career to sharing all her knowledge, so don't be surprised if you hear her giving bagpipe lessons in the Taylor Science Center one day soon.