100 Students Choose Alternative Spring Break
---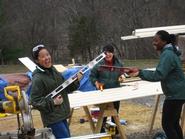 One hundred Hamilton students are spending a week of their spring break volunteering at one of nonprofit organizations during Spring Break, March 12-26. This year marks Hamilton's 18th Alternative Spring Break (ASB), an annual volunteer venture that consists of 10 different community service trips. Nine groups are heading south for week-long construction projects, direct service work with children or environmental service. A new trip this year to nearby Syracuse has 10 students working at the Rescue Mission.
Six trips are taking place the first week of break, March 13-19.
The Rescue Mission, Syracuse, N.Y.
New this year, the Syracuse trip is geared to students who wanted to volunteer for a shorter, urban trip, get to know the local area and help Hamilton's neighbors. The students are volunteering at the Rescue Mission where they're primarily working on a painting project and serving food in their Food Service Center. They will also spend time helping in their New Life Day Center and Clothing Outreach program.

Habitat for Humanity, Franklin, W.V.
Hamilton students are traveling to Franklin, W.V., to volunteer with Almost Heaven Habitat for Humanity where they will help build a house for a family in need. Almost Heaven Habitat was founded in 1988 by a local group of citizens concerned about the living conditions of their neighbors.
TV clip featuring Hamilton ASBers from WHSV
Habitat for Humanity Greenbrier, W.V.
Another group of students are working on house construction with Habitat for Humanity in Greenbrier which recently merged with Almost Heaven Habitat to serve the local community as a joint effort.

YSOP, Washington, D.C.
Ten Hamilton students are working with Youth Service Opportunities Project (YSOP) in shelters, soup kitchens, schools, food and clothing banks and other direct-service institutions. YSOP is committed to helping young people become part of the solution to societal problems by showing them how even their smallest actions can make a difference in the lives of others.

Land Between the Lakes, Golden Pond, Ky.
Land Between the Lakes is a 170,000-acre national recreation area in Western Kentucky and Tennessee located about 90 miles north of Nashville, Tenn., and just south of Paducah, Ky. Volunteers will help with the maintenance of an 1850s working farm, by doing repairs and building fences. They'll also work to get the facilities up and running for the tourist season.
Habitat for Humanity, Bay St. Louis, Miss.
Habitat for Humanity Bay-Waveland Area began as a disaster office of Habitat for Humanity, Jackson, Miss., shortly after hurricane Katrina struck the Gulf Coast. In January 2008 it became an independent affiliate and has since built 155 homes in Hancock County. Hamilton students will work on house construction for the week.
Hamilton students featured in The Natchez Democrat letter to ed.

Natchez Democrat page 1 story
Natchez Democrat editorial mention
Four ASB trips will depart during the second week of break, March 20-26.
Habitat for Humanity, Marion County, S.C.
Hamilton students will work with Marion County HFH, a locally run affiliate of Habitat for Humanity International. Habitat for Humanity works in partnership with people in need to build and renovate decent, affordable housing. The houses then are sold to those in need at no profit and with no interest charged.
South CarolinaNow website news story
Burgaw Elementary School, Wilmington, N.C.
Ten Hamilton students will return to work at Burgaw Elementary School near Wilmington, N.C. Through this outreach program, they'll help students with homework and participate in after-school activities.

Habitat for Humanity, Chatham, N.C.
The students will work at Habitat for Humanity in Chatham where they'll help build a house for a family in need. Since 1989, Habitat for Humanity has worked to change substandard housing conditions throughout Chatham County by making homeownership possible for more than 100 families.
Cumberland Trails, La Follette, Tenn.
Students will again return to Tennessee to help build trails and do maintenance. The Cumberland Trail (CT), a Tennessee State Scenic Hiking Trail, became Tennessee's 53rd state park in 1998. The Justin P. Wilson Cumberland Trail State Park contains a core corridor of 300-plus miles of trail beginning in the Cumberland Gap National Park (KY.) and stretching south to Chickamauga Chattanooga National Military Park and Prentice Cooper Wildlife Management Area just outside Chattanooga.
Students are housed in churches, camps and refugee centers and pay $150 each to participate in the ASB trips.