11th Annual Fall Fest is Oct. 21 on Clinton Village Green
---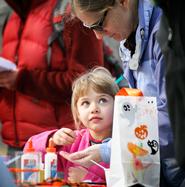 The 11th Annual Hamilton College Fall Fest will take place on Sunday, Oct. 21, from 11 a.m. to 4 p.m., on the Clinton Village Green. Fall Fest is an initiative that was started in 2002 by the Hamilton Class of 2005 to reach out and join with the local community for an afternoon of food, fun activities and entertainment.
Organized by the Social Traditions Committee of the Hamilton College Student Assembly, campus organizations, musical groups and societies come together to coordinate a wide variety of games and activities for children. This year's activities will include mask making, face-painting and candy toss. Attendees can decorate stress balls, play speed chess and decorate trick or treat bags and the women's soccer team will host a clinic.

There will be live music and entertainment provided by Hamilton's musical a cappella and performance groups. Food and fall favorites including Cider Mill donuts will also be available. The event is free and open to the public. Jitney service from the campus will begin at 11:30 a.m.