11th Annual Gospel Choir Workshop at Hamilton
---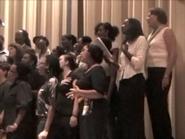 Hamilton College will host a Gospel Music Celebration on Saturday, Sept. 26, at 7 p.m. in the college chapel as the culminating event of Hamilton's 11th Annual Gospel Choir Workshop. This event is free and open to the public.
Kirk Hatcher of Miami, Fla., will direct the workshop choir, and Edward "Chief" Menifee, Jr. will provide piano accompaniment and lead the gospel band. The choir is composed of Hamilton students and other college community members, as well as gospel choirs from other local colleges and churches, and anyone from the community who would simply like to sing with this workshop.
The workshop begins Friday, Sept. 25, at 7 p.m. in the College chapel and is free and open to the public. To register for the workshop, call Jeff McArn, College Chaplain at 859-4130 or email at
jmcarn@hamilton.edu
.
The Gospel Workshop was founded 11 years ago by Dean Karen Green, formerly of Hamilton College, subsequently dean of students of Wells College in Aurora, N.Y., and currently dean of students at Muhlenberg College in Allentown, Pa. Local college students are invited to help make up the community gospel choir. St. Paul's Baptist Church from Utica and other church choirs and individuals will also sing in the workshop choir and play in the gospel band accompanying the workshop choir. Anyone who would like to sing with the choir at the workshop is invited to register and join in this gospel fest.