12 Students Present Research at NY 6 Undergraduate Conference
---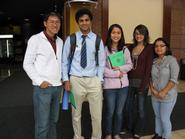 Hamilton was well-represented as 12 students presented the results of their research at the New York 6 Undergraduate Research Conference this month at Skidmore College in Saratoga Springs.

Six upstate colleges – Colgate, Hamilton, Hobart William Smith, Skidmore, St. Lawrence and Union–launched the New York 6 Liberal Arts Consortium in 2009. This is the first academic project the consortium has sponsored, said Amy Cronin, consortium coordinator.

More than 100 students from the consortium's colleges presented the results of research they conducted with faculty on a wide range of topics. Presentations took the form of poster sessions and lectures.

Daniel Feinberg '12 presented "Investigation of Invasive Plants in the Hamilton College Forests," and Dilyana Mihaylova's '12 project was "Hamilton College Forest Survey: Abundance of Invasive Plant Species." Both students worked on their research this summer with Associate Professor of Biology William Pfitsch. Other Hamilton students involved with these research projects were Bethany O'Meara '12, Ana Fernandez '13 and Matthew Combs '13.

Three groups of students presented research they conducted with Assistant Professor of Biology Wei-Jen Chang. Barsha Baral '13 and Shahinur Islam '12 presented "Phylogenetic Analysis of Nematodes Using Ribonuceloproteins." Chun Yee Lau '12 and Ravi Jariwala '13 worked on research titled "A Genomic Approach to Help Indentify Genes Involved in Sexual Reproduction of Fish Parasite, Ichthyophthirius multifilis." Tani Leigh '12 presented" Reconstructing the Eukaryotic Tree of Life Using Ribsomal Proteins as Molecular Markers."
Hayden Kiessling, who worked with Professor of English Patricia O'Neill, presented a paper on "Jack Kerouac's Sincere Pursuit of Authenticity in On the Road. " Megan Woolley '13 was the recipient this year of an Emerson Summer Research Grant. Her project with Associate Professor of English Katherine Terrell was titled "Royal Appropriations of Arthurian Myth at Glastonbury Abbey."
Catherine Crone '13, also an Emerson grant recipient, gave a presentation titled"From Old Virginia to the Beautiful Blue Danube: Banjo Instruction Methods in Nineteenth-Century America." Her research was conducted with Professor of Music Lydia Hamessley.
Henry Anreder '12 presented "Comparative Responses of the Israeli Government, UNHCR and NGOs to African Asylum-Seeker Influx: 2004-2011," and Austin Walker '12 gave an oral presentation on "The Lost Voices of Kenyan Youth." Both students were recipients of 2011 Levitt Research Fellowship Grants and conducted research with Professor of Government Stephen Orvis.