14 Seniors Elected to Phi Beta Kappa
---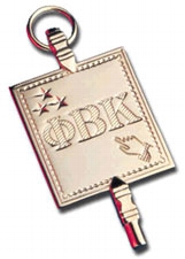 Fourteen Hamilton College seniors were elected to the Epsilon chapter of Phi Beta Kappa, the nation's oldest honor society, on Feb. 12.
The inductees are Charles Allegar, Jennifer Baxter, Kimberly Bogardus, Summer Bottini, Graham Boyd, Katherine Delesalle, Julia Gelissen, Isaac Handley-Miner, Robert Hayden, Christopher Richardson, Abigail Saks, Sunrose Shrestha, Jacob Taylor and Anderson Tuggle.
They join eight other students from Hamilton's class of 2014 elected to Phi Beta Kappa, the oldest and most prestigious honor society in the country. Students are elected to membership in recognition of their exceptional academic achievement in fulfilling the goals and purposes of the college.