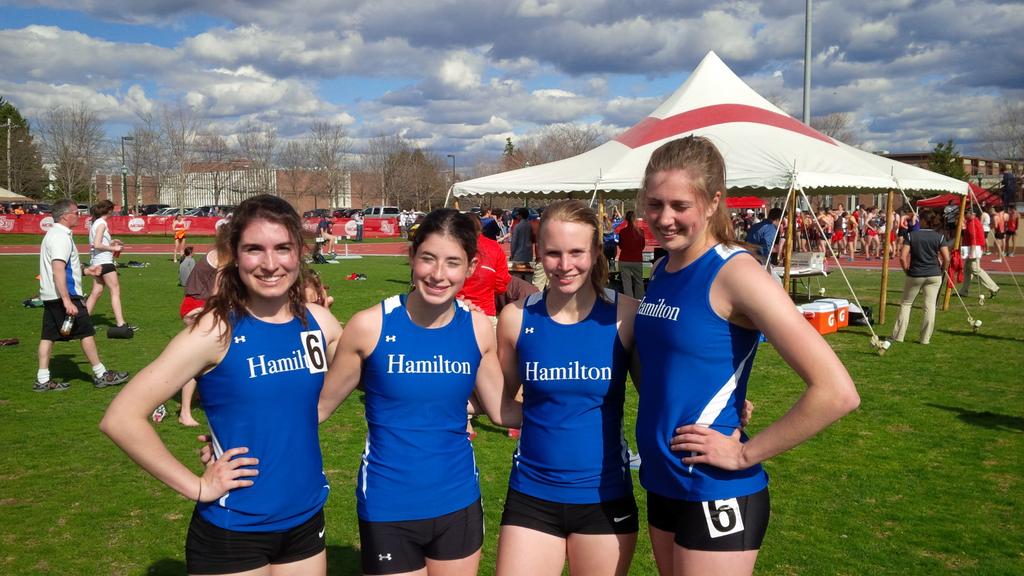 The Hamilton College track & field teams concluded two days of competition at the New York State Collegiate Track Conference Outdoor Championships on Saturday at St. Lawrence University. On the women's side, the Continentals scored 26 points to place ninth in the 12-team standings.

Complete results

The meet's top performance came from the 3,200-meter relay, which set a school record by finishing second in 9:23.67. The foursome of Hanna Jerome '18, Tina Choinski '15, Mattie Seamans '18 and Michelle Fish '17 broke the program's longest-standing relay record, which had stood for 14 years, by more than five seconds to win the silver medal.

In the 800-meter run, Jerome and Seamans finished fourth and fifth with respective times of 2:18.48 and 2:18.80.

Fish was fourth in the 1,500-meter run in 4:47.98. Yuwen Michelson '17 was fifth in the long jump, clearing 5.18 meters.

Members of the track & field team will compete at the Eastern College Athletic Conference Division III Outdoor Championships on May 14 and 15 at Springfield College.