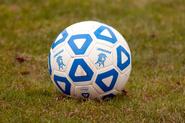 The Hamilton College women's soccer team opened its season Tuesday, traveling to Williams College for a NESCAC contest. The host Ephs, ranked second in the preseason national coaches' poll, outshot the Continentals 15-5 in the second half en route to a 1-0 win.

Box score

Williams opened the second half with an offensive flurry, sending three shots at the Continental goal in the first 82 seconds. Emily Dumont '18 made one of her three second-half saves, another shot was blocked and a shot following an Eph corner kick sailed wide. Two minutes later Williams' Audrey Thomas scored the game's only goal, converting a pass from Crystal Lewin.

Williams held Hamilton to just three shots over the final 42 minutes. Two came in the final minutes; a shot by Olivia Simone '19 off a corner kick went over the crossbar with 5:04 left and 34 seconds later Katie Kreider '18 took a shot that was blocked. Becca Rees '16 -- who had hit the crossbar with a first-half shot -- took the last of the Continentals' five corner kicks with 2:31 left but Hamilton was unable to capitalize with a shot.

Dumont made six saves -- one short of her career high -- in her fourth collegiate start.

Tressa Palcheck stopped all four Continental shots on goal to post the shutout.

Hamilton is back in action Saturday, facing NESCAC opponent Bates at 11 a.m. at Love Field. The game will be the Continentals' home opener.