2013 NESCAC Cross Country Championships preview
---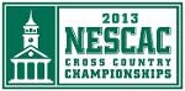 Hamilton College competes in the 2013 NESCAC Cross Country Championships at Harkness Memorial State Park in Waterford, Conn., on Saturday, Nov. 2.

NESCAC preview

Connecticut College is the host school for the 31st annual meet. The women's 6-kilometer race is scheduled to start at noon and the men's 8-kilometer race begins at 1 p.m. Results will be available on Saturday afternoon at www.nescac.com.

Hamilton's Adrian Walsh '16 has finished no worse than fourth place in five races this fall. Walsh was selected the NESCAC women's cross country performer of the week on Oct. 7 two days after the SUNY Geneseo Invitational. Her time of 22 minutes, 18.1 seconds at Geneseo is believed to be the fastest 6K performance in program history.

Adam Pfander '16 has won all three meets hosted by the Continentals and has placed in the top five in every race this fall. On Monday, Pfander was named the Division III men's national athlete of the week by the U.S. Track & Field and Cross Country Coaches Association after he finished first in the 2013 New York State Collegiate Track Conference Cross Country Championships at Hamilton on Oct. 26. His time of 26:13.2 was the second fastest by a Hamilton runner on his home course.