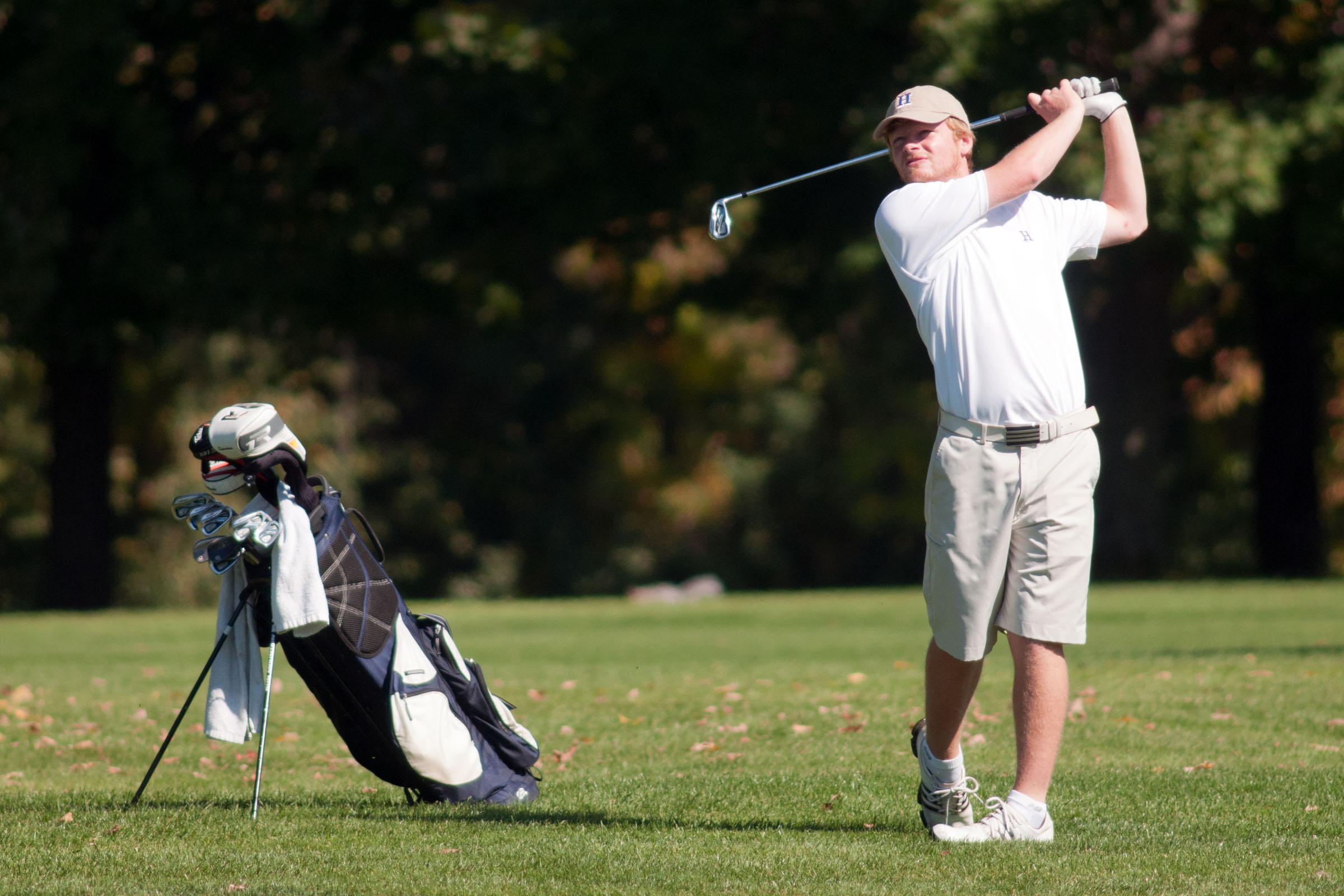 Joe Tigani '18 and a trio of talented seniors aim to help the Hamilton College men's golf team qualify for the NESCAC Championship for the seventh time in nine years this fall.

The Continentals hosted the NESCAC Championship Qualifier at the Skenandoa Club in the fall of 2014 and finished just one shot behind the event's winner. The top four teams at the qualifier advanced to the 2015 conference championship where Hamilton ended up in fourth place.

The NESCAC Championship capped an eventful spring for the Continentals. The men took third place at the Dowling Memorial Tournament -- an event that featured 11 Division II schools. Bayard Geeslin '16 captured individual medalist honors at the 2015 New York University/Manhattanville Spring Invitational after he finished at just 3-over par for 36 holes.

The signature event of Tigani's rookie season was the NESCAC qualifier where he fired a 1-under 71 on the final day of the 36-hole event and tied for fifth place. He earned a spot on the all-conference first team for that performance. He tied for third place at the University of Rochester's 2015 Kravetz Invitational with teammate Matt Yung '16 in April. Tigani's 18-hole scoring average of 78.13 was second on the team only to Geeslin.

Geeslin played in four tournaments in the spring after he competed with the men's soccer team in the fall. Six of his eight rounds were in the 70's and his team-best scoring average was 76.88.

Yung, the 2012 NESCAC Rookie of the Year, posted a career-best 36-hole score of 150 at the Kravetz Invitational. He registered a scoring average of 78.17 in three spring tournaments.

Chris Bousquet '16 and Greg Reeves '17 are the other top returners this season. There are five new faces on the roster, including three freshman, a sophomore transfer and a junior. Ben Morgan '19 is expected to crack the lineup right away. Morgan will try to replace two-time all-conference honoree Mac Pivirotto '15, who graduated in the spring.

"The team's qualifying scores were the best in recent memory, and they are very excited and looking forward to the season ahead," head coach Steve Stetson said.

The men open the fall with a tournament at St. Lawrence University on Sept. 5 and 6. Tournaments at Williams College and Middlebury College follow, along with the NESCAC Qualifier and the Manhattanville/NYU Fall Invitational in October. Hamilton hosts an invitational at Yahnundasis Golf Club on Sept. 26 and 27. In March the team travels to Florida to practice and compete against other schools during Hamilton's two-week spring break.