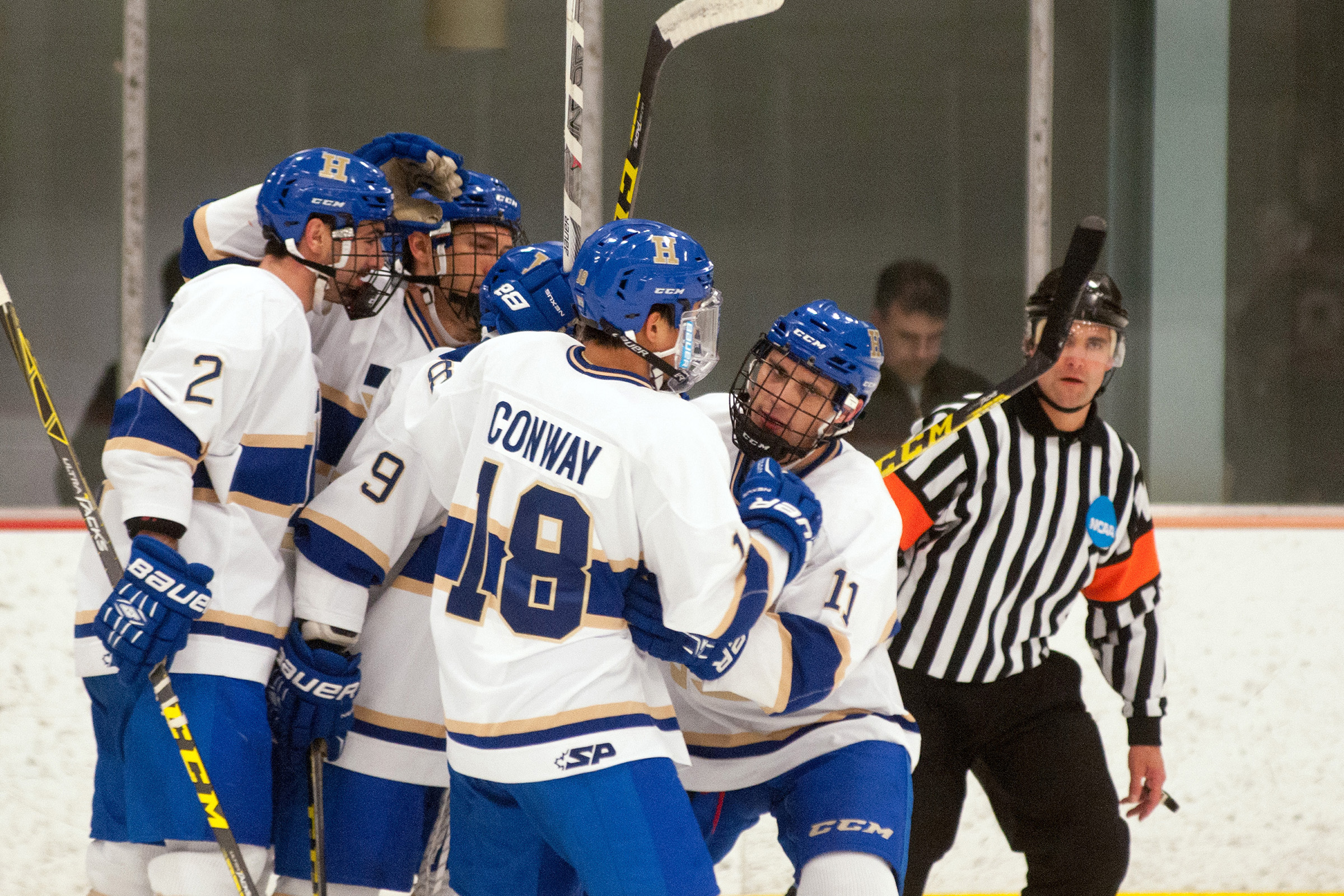 Captains Kenny Matheson '16, Tyler Lovejoy '16 and Bennett Hambrook '17 return to lead the Hamilton College men's hockey team into 2015-16. The Continentals strive to continue their upward movement in the NESCAC standings after they moved from ninth place in 2013-14 to sixth with a record of 7-7-4 last season.

The Continentals set a program record with six ties and their conference quarterfinal at Connecticut College also went to overtime. One of the highlights last season was a two-game series sweep of Williams College.

Matheson and Robbie Murden '17 will anchor the offense. Murden was voted to the all-NESCAC second team after he tied for fourth place in the conference with 15 goals, finished fifth with 32 points and sixth with 17 assists. He also tied for fourth place with five power-play goals. Matheson chipped in nine goals and 11 assists last season.

Neil Conway '18, Tyler Bruneteau '18 and Brandon Willett '18 enjoyed fine rookie seasons for the Continentals. Conway led the trio with 11 points on three goals and eight assists, Bruneteau added five goals and five assists, and Willett contributed five goals and four assists. The forward lines will also receive a boost from Truman Landowski '17, T.J. Daigler '18 and Seamus O'Neill '17.

Alternate captains Lovejoy and Hambrook return to lead the defense. Lovejoy is one of three seniors on the roster and has 70 games at Hamilton under his belt. Conor Lamberti '17, Brad Smelstor '17 and Jon Carkeek '17 are expected to log big minutes on the blue line, and Scott Vazquez '16 and Xavier Morin '17 add versatility with the ability to play both forward and defense.

The Continentals return some of the NESCAC's finest in goal. Tim Nowacki '18 earned the starting job down the stretch last season. He ranked fourth in the conference with a .923 save percentage and was fifth with a 2.26 goals against average in 583-plus minutes.

Evan Buitenhuis '18 was set to have a breakout season but suffered an injury in late November and played in just two more games the rest of the way. Buitenhuis registered a 1.80 goals against average and .944 save percentage with one shutout in five starts. In just his second game, he made 46 saves in a 1-1 tie at eventual national champion Trinity College.

Charlie Fennell '17 had a 2.50 goals against average and .913 save percentage in four starts last season.

Five forwards and two defenseman make up a talented freshmen class.

Hamilton plays 24 games this season, including 13 at Russell Sage Rink, and the home opener is against Franklin Pierce University on Nov. 21. The men have an 18-game NESCAC schedule which gets underway with the season opener on Nov. 20 at Amherst College. Trinity visits on Dec. 5 and eight other conference home games follow in December, January and February. Seven of the Continentals' first nine games are in Clinton, including a New Year's Day contest against Skidmore College at the Clinton Arena.